Your shoes are already dirty, but you don't know how to handle them?
If you know the method to wash tennis shoes, this method will help you a lot in dealing with stains effectively. Not only that, but it also helps your shoes reduce odors, prolong their life and save a lot of time cleaning shoes.
However, not everyone knows how to handle shoes effectively. Many questions that you ask yourself like how to keep them like new? 
Luckily, we're here to help you with this. We also give some suggestions on how to wash shoes for you effectively!
Let's get right into the details!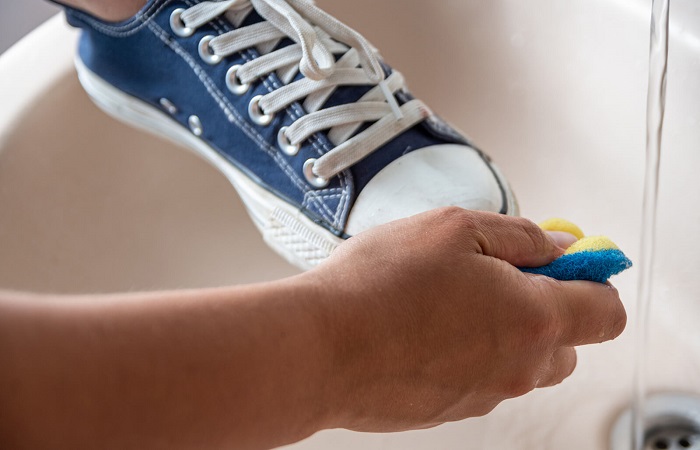 What Are Shoes For Tennis?
Shoes for tennis are sports shoes used for sports and outdoor activities. The main structure of the shoe is a soft rubber sole and flexible material. That material will support your legs and ankles during the operation.
Shoes for tennis and most other sneakers are designed to withstand severe wear, but they get dirty quickly from too much movement.
We can almost clean them with a washing machine. However, washing tennis that way sometimes makes your shoes more stained, cored, or worn away.
We'll show you how to wash properly with this super easy recipe below.
The Method To Wash Tennis Shoes
Simple ways to wash shoes include the following steps:
Cleaning the dirt on your shoes first
Next, you will remove the shoelaces
Now you will use the cloth to wipe the stain
Then you will wash your shoes with warm water gently
After that, you dry the newly washed shoes
Finally, wash the insoles
But first, you should equip the necessary equipment, including:
Baking soda

Shoe polish and conditioner

Heavy Detergent

Drying rack

White tissue

Towel

Washing machine

Mesh laundry bag

Fabric protection spray
Guide To Wash Tennis Shoes
After the preparation is complete, we can proceed to clean the shoes according to the following detailed instructions:
Clean Dirt
Use a brush or towel to remove dirt from the shoes, especially the rim around the shoes and sole. In case your shoes get muddy or wet, wait them for drying completely.
Remove Shoelaces
Gently remove your shoelaces and put in the cleaning solution and warm water afterward. Carefully dry the laces and wait until the shoes are dry. We can reattach them back. If they're frayed or tangled, it's time to replace the cord with a new one.
Use A Cloth To Wipe The Stain: 
In this step, you need to gently wipe a dry towel on the toe of the shoe and cover its surrounding. Make sure your shoes are cleaned on all sides and are vacuumed up with a towel.
When using the washing machine, remember to add a few towels. 
These towels not only limit noise during the washing process but also help prevent shoes from bumping into the drum frame of the machine leading to unnecessary damage.
Wash With Warm Water Gently
If washing by hand, you should use warm water to protect the fabric. At the same time, warm water makes the stains easier to remove.
Drying
After cleaning, quickly remove your shoes from the water. Then you put them on the rack to drain. Here you have two ways to dry your shoes.
First, you stuff your shoes by hand. You also can use a dry towel or tissue paper to absorb all the water. Then let your shoes dry in the natural warm sun.
Alternatively, you can use a dryer. However, make sure the temperature is not too high as it can warp the shoe and melt the glue.
Wash the Insoles
If your insoles smell or change color, you should soak them in warm water as well as then wash them with soap. Continue to dry the insoles in the sun or use a dryer.
Other Cleaning Tips For Shoes
Usually, if you decide that you won't use the shoes for a while, we should clean the shoes and put them in a box or bag to store.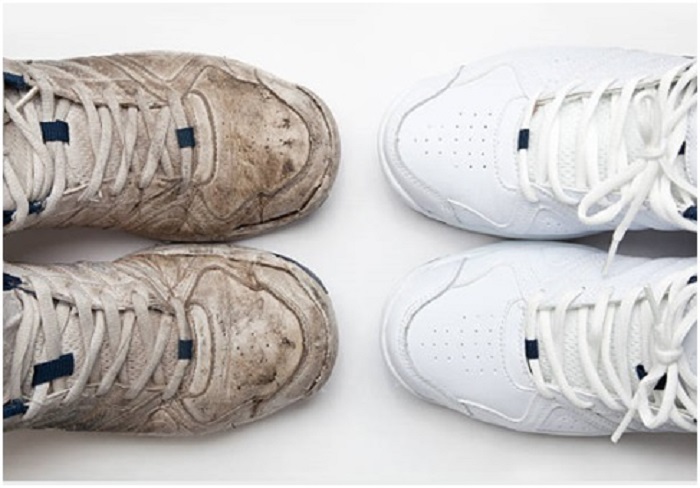 But when you must use often but you don't have a lot of time to take care of your shoes, then you should read through these useful time-saving care tips below:
Some Useful Tips For Cleaning White Tennis
Here's what we should do the first time we clean tennis shoes. You should clean your shoes with vinegar, bleach, or hydrogen peroxide before putting them in warm water or the washing machine.
Detailed instructions for you:
Such a quantity of detergent will come with 4 parts of water. And when you decide on using peroxide, the recipe for you is a small teaspoon to go with water.

If using bleach, wear gloves for protection. By the way, while cleaning shoes, limit the amount of detergent that will penetrate the material for a long time.

Finally, use a sponge or washcloth to clean your shoes.
When your shoes are heavily soiled, use bleach. If it's just a normal stain, warm water, as well as a little soap is already a good choice for cleaning your shoes.
Besides, Baking soda is an alternative to bleach. Let them dissolve with just enough warm water. 
Then, use a toothbrush or soft cloth to remove the stain. When finished, dry your shoes with a clean cloth and air dry.
Good Way To Clean Suede
Suede tennis shoes are very sensitive to washing in the washing machine, even the dryer. We're better off putting a tissue inside the shoe to keep its original shape after use.
If the shoes get wet, leave the shoes in until they are completely dry, then clean them later.
The included cleaning kit should also be suitable for the suede type of shoe. Accordingly, suede brush and suede remover are wise choices.
And the way to clean is also very easy when there is baking soda, you just need to sprinkle them on the stain of the shoes. Then, use a pre-prepared brush to scrub the stain.
The optimal time for the stain to be completely removed is 10-15 minutes. Finally, use a dry cloth to clean and air dry the shoes.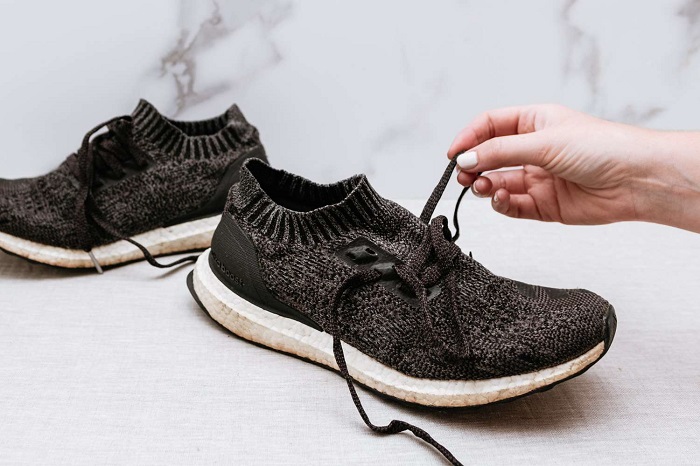 Ways To Clean Tennis With Leather
The biggest caveat for you in this section is not to use bleach and harsh cleaning agents. In the experience of many people, they cause your shoes to discolor or severely damage even if they are completely soaked with water. Instead, use Magic Eraser – a specialized eraser found in supermarkets. 
And washing leather tennis shoes will be very easy when you mix warm water and soapy laundry detergent and then put the shoes in. Next, you will wash the leather with a sponge or soft cloth.
Note for you to use a toothbrush or cloth to get the stains in the shoe's openings quickly.
Is Cleaning Waterproof Tennis easy?
You should know that the waterproof membrane of this shoe is very easily damaged if it encounters the floor of the room.
The best way is to apply a mixed cleaning layer to the stain to see if it reacts with the waterproofing screen. If not, continue cleaning your shoes with a dry cloth or a brush.
In case the waterproof curtain is affected, you should change to a special cleaner for it. Or you should treat the waterproof screen separately before putting the shoes in the wash with water and the original cleaning mixture.
Summary 
It's good to know the tips to wash tennis shoes, isn't it?
Then we can find the best method to clean your shoes in any way. So the last thing we just need to focus on is using our tennis shoes. Everything else has the tips above.
Thank you for your interest in the article!