A pair of glossy leather shoes can do wonders for your casual as well as formal outfit. But what if they start looking ugly and shabby due to the lack of care? We're afraid you have to buy new ones since it's quite hard to repair them.
To protect your investment, you'd better clean your footwear regularly. This way, not only can you always have a nice look but also your shoes will last for longer.
So how to clean leather shoes properly? The problem is many of you may not know the answer. Don't worry! We'll show you a helpful guide on how to do it correctly!
What Are Common Leather Problems?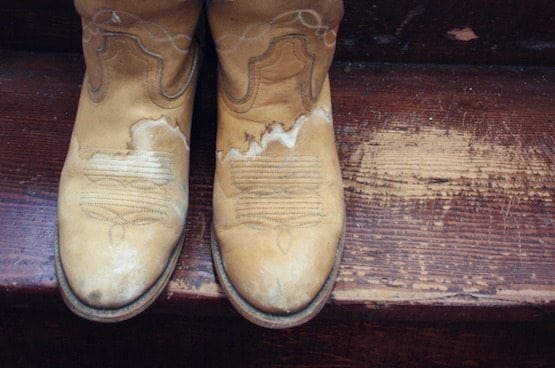 The question of 'how to clean leather shoes' comes frequently since we have to handle dirty marks almost every day. They may be dust, muddy smears, scuffs, or stinky spots – the most common shoe issues in general.
Once the leather absorbs moisture, salt stains start to appear on your footwear. This usually occurs in the wintertime, when the salt on streets flies against ice and snow and the wet weather.
Oil and grease stains are also typical leather problems. They are mostly found in the summer when the extreme heat causes the moisture level to go up high. Combined with sweaty feet, your shoes have got funky smells.
How To Clean Leather Shoes Like A Cobbler?
Basically, the cleaning process includes:
What Will You Need?
Before taking steps, good preparation is pretty necessary. You don't want to pause the work just to find some missing tools, do you? It would take you forever to complete the task.
The list of gadgets needed:
Brush/Suede brush

Leather shoe conditioner

Shoe cream polish

Shoe protector spray

A soft cloth/cotton swab

Mild soap

White distilled vinegar

Rubber eraser
How To Treat Your Leather Shoes?
Patent Leather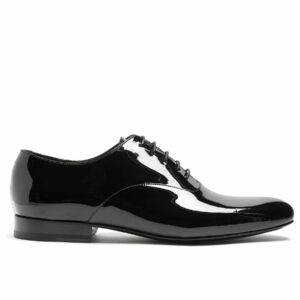 With a sleek finish, patent leather is many consumer's shoe material of choice. But that's also the reason scuff and scratch on it are more noticeable.
For oily or salt stains on patent leather shoes, start by wiping your shoes with a soft cloth dipped in a mixture of white vinegar and water. If the oil is too stinky, you can replace vinegar with mild soap.
To deal with scuffs, you soak the cloth in a compound of petroleum jelly and buff. Then, you gently rub either side of the shoes.
Another way is to use a cotton ball with some drops of hand sanitizer. You rub it against unsightly marks, then wipe off excess residue.
The final step is polishing your shoes. You need to let them air dry completely and apply a dab of glass cleaner, and buff to their entire finish.
Pebbled Leather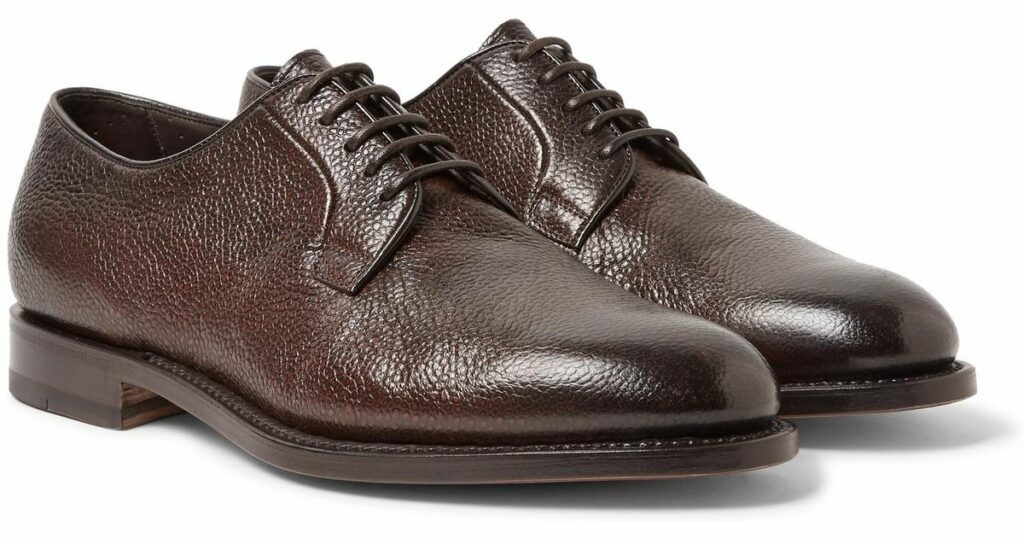 Pebbled leather bears a rough yet so attractive appeal that we can't take our eyes off it. It's the easiest type of leather to treat.
Follow these steps to clean your pebbled leather shoes properly:
Wiping down the footgear with a damp cloth – this is an overall clean before starting up.

Moisturizing the leather by using a cloth with some drops of oil-based conditioner.

Restoring the shine by applying a beeswax-based polish to the finish. Then, use a brush to rub the shoe. Please note, you should let the conditioner dry and choose a polish with the right color to avoid discoloring your shoes.

Retreating the product with a finish protector spray
Cordovan Leather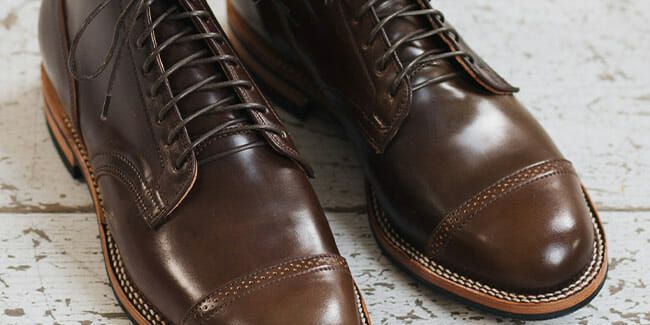 Shell Cordovan leather has fascinated customers with its excellent wear and age.
The good news is that it's extremely easy to mend cordovan leather shoes. You just need to follow the straightforward steps below:
Clean the shoe with a clean, damp cloth. Allow it to air dry completely.

Brush for 3-5 minutes. You can apply slightly strong pressure to remove stubborn dirt.

Apply a wax polish containing mink oil to shine the footwear.
When it comes to what home remedy cleans leather shoes, knowing how to condition and polish is just as important as how to clean. Particularly, a pair of cordovan leather footgear only needs occasional conditioning and shining to last for years.
By applying a mild haze of renovator cream every 10-12 wearings, you can preserve the shoes' rich color and bright luster.
Suede
Suede has been one of the trendiest and classiest leather genres so far. Like patent, it does need frequent cleaning, or else the heat, air, and salt stains will bleach your shoes out.
Also, suede leather requires exceedingly careful treatment.
Gently brush the shoes with a suede brush to remove dust and scuffs. Do it in a back-and-forth direction.

Remove smudges and smears using a pencil eraser. Keep rubbing smudge marks in the same direction to avoid damaging the leather finish. Then, wipe off eraser residue with the suede brush.

Get rid of serious smudges, oil, and stinky dirt by dipping the shoe in cornstarch. Or you can apply a dab of cornstarch directly onto the stains. Next, let the powder sit for 3-4 hours. Then, brush the covered area, knock off the powder, and remove the headstrong smear.

Treat your suede footwear with a silicone-based spray. This way, you're weatherproofing it so that the leather can resist bad air conditions.
Suede is an eye-catching fabric, but it's quite vulnerable to water and harsh weather. Users always have to look out for sudden stains or moisture.
Some Shoe-Maintenance Tips
We have some remarkable 'No-Nos' for you to take into consideration.
First, leather is vulnerable to several chemicals, despite its enduring nature. When choosing leather shoe cleaners, you should avoid bleach or ammonia-based products.
Second, keep away from using excessive water.
You'd better pay attention to the amount of water when making the clean mixture. Too much moisture will bleach your shoes out.
Lastly, bear in mind that no matter how good your conditioning or protectant products are, natural leather can't withstand excessive sunlight or heat. Always try to keep it away from those elements.
Conclusion
When talking about how to clean leather shoes, most of us would choose to keep it easy and cost-effective. Our recommendations more or less will help you mend your beautiful shoes like a pro.
Leather footwear gives you a dynamic yet elegant presence. The more precisely you take care of it, the more gorgeous you look.
Actually, this enduring material doesn't need too complicated cleaning. With simple treatment, you've got yourself a pair of shoes that goes with you for years to come.
Thank you for reading!