The Nike brand is probably a familiar name to you. However, have you ever wondered, "where are Nike shoes made"? A lot of fans of this shoe brand don't know the answer either. Or most of them would have a rather vague answer. Follow our sharing below to get the correct answer!
Where Are Nike Shoes Made?
Nike shoe factories appear in 41 different countries. Some countries in Asia account for the largest production volume, such as China, Vietnam, Indonesia, Thailand, Japan, etc.
According to the latest data, the largest manufacturer of Nike shoes in China, with 149 factories and nearly 140K workers.
Nike is the world's leading manufacturer of athletic apparel and footwear. Indeed Nike shoes are no longer strange to you. They are even shoes that make many people wobble.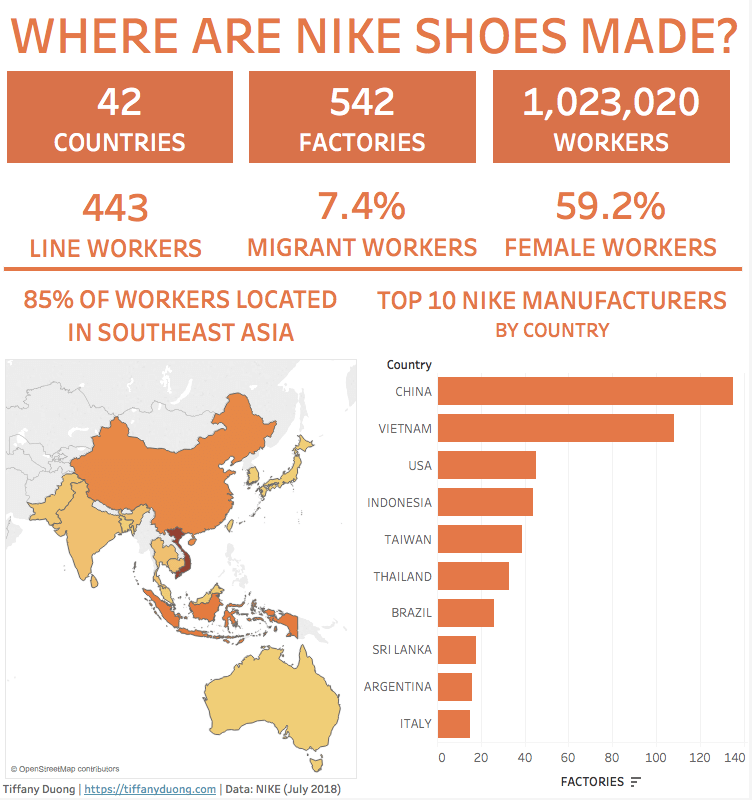 Nike is a famous American shoe company that surprises many people, but almost all Nike shoes are made in other countries. Topping the list of manufacturing plants are Asian countries.
Nike barely makes their shoes. They often associate with many factories in many different countries to produce shoes. Prominent are the 3 countries that produce the most Nike shoes, including China, Vietnam, and Indonesia.
China
You are probably quite familiar with the items that this country produces. They can craft and remake anything. You can find objects around the house and see that one of them will say "Made in China".
China is the country with the most Nike shoe factories. They own 149 factories and nearly 140K workers.
Thanks to many factories and workers, China's total Nike shoe production accounts for 36%. Every year, there will be millions of pairs of Nike shoes originating from this country.
Vietnam
Vietnam is a small country located in Southeast Asia. However, in this country, there are many favorable conditions for the production of Nike shoes.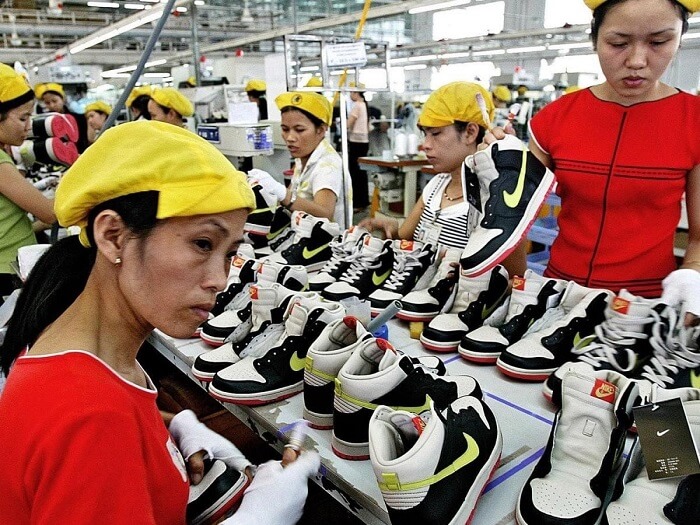 In this small country, Nike has 137 factories and more than 400K employees. You can see that their number of workers is more than in China.
The total volume of Nike shoes that Vietnam supplies annually accounts for 36% of the total global production. It is quite a large number for a relatively small country.
Indonesia
In third place is Indonesia, which is a country consisting of many small islands. However, Nike has 45 factories and more than 200K employees here.
Indonesia accounts for 22% of total Nike shoe production worldwide. So, you can imagine how hard and efficient they worked.
Why Did Nike Decide To Make Their Shoes In Another Country?
Many people wonder why Nike does not manufacture shoes in the US but chooses other countries. Honestly, there are a lot of compelling reasons for this.
Abundant Labor Resources
As you know, some countries like China, Vietnam, and Thailand all have large populations. Especially China, when their population is over a billion people.
Therefore, it is straightforward to find workers in these countries. You can fill a factory in just a few days of posting a job ad.
Low Cost of Hiring Workers
Having many workers leads to scarce jobs. On the other hand, they will also readily accept a salary that is not too high for work in the factory.
Nike has taken the main point and launched production in these countries. They can save most of the cost of hiring labor and some other taxes.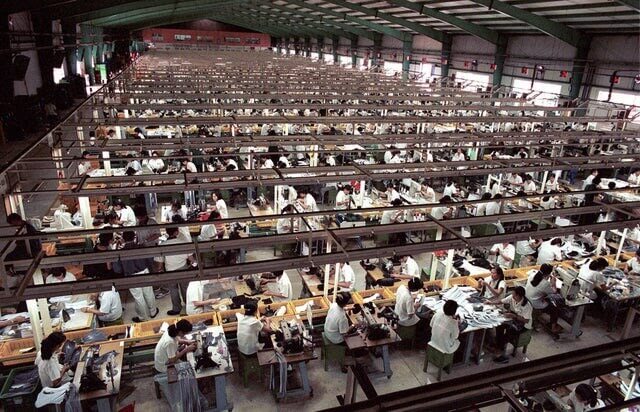 Not Too Dependent On One Supplier
Honestly, when a trader has more than one product source, they have more peace of mind. Nike is one of the shoe brands that do this well.
Nike's shoe factories appear in many countries around the world. It will avoid unexpected product shortages.
You can see that through the ongoing Covid-19 pandemic. The outbreak in the US and some other countries caused Nike's factories to close. However, factories in Vietnam or China are still operating.
Through it, you can see that many factories in many different regions will help Nike avoid local shortages. If the factory in this country cannot produce, they will have another choice.
Are Overseas Made Nike Shoes Really Good?
I'm sure this is a question a lot of people want to know the answer. Some people still don't fully trust the quality of imported Nike shoes.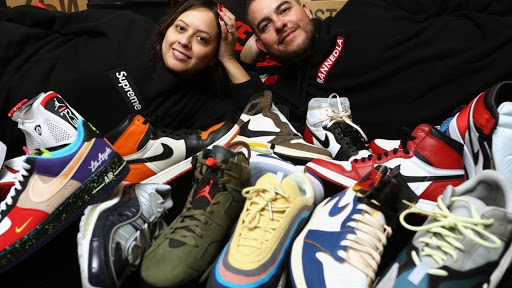 However, you can completely trust Nike's high-quality shoes. Regardless of the manufacturing plant or country, they must produce according to the Nike process.
Nike is the one who directly selects the materials and oversees the implementation process. Nike continuously checks the final product several times and makes sure it is of good quality.
They always strictly carry out the inspection and quality assessment. You can wear these shoes with complete confidence.
Frequently Asked Questions
1. Does Nike have a shoe factory in the US?
Nike does make shoes in the US, but in minimal quantities! They only opened 36 factories and had more than 5000 workers.
2. Will Nike shoes made in China have the "Made in China" label printed?
Right! When you buy Nike shoes made in China, the label will say "Made in China".
3. China produces what percentage of the world's Nike shoes?
The percentage of Nike shoes produced accounts for 36% of total Nike shoe production worldwide. So China is also the largest Nike shoe-producing country in the world!
Summary
Regardless of origin, Nike is still a famous sports shoe brand for quality and fashion. Hopefully, the information that we share above will help you understand this shoe brand better. Thanks for reading!