It's fun to get people's attention everywhere you go. But it doesn't include the squeaking of your shoes. You may feel embarrassed and lack confidence about your every move. 
Those annoying squeaking noises shouldn't last for a long time. What is the method to prevent shoes from squeaking? Follow the shares in this article for the best tips!
What Causes Shoes to Squeak?
The squeaking sound wherever it appears is indicative of the instability of the object. A car that keeps squealing means it has a problem, so do the shoes.
Some children's shoes will squeak as they move. However, it is only suitable when the user is a toddler. Adults can easily find the lost child.
For adults, it's different. The squeaking is annoying. There are 3 main reasons why your shoes squeak:
There's water in the shoe

Sole is too slippery

Old shoes
The Method To Prevent Shoes From Squeaking?
To prevent your shoes stop squeaking, you can do a lot of different ways. Here, we will introduce to you the most valuable ways:
Dry the inside of your shoes
Each of these tips to overcome shoes squeaking when moving will be especially useful in individual cases. So keep an eye out for our subsequent detailed analysis.

Use Talcum Powder
Water in the soles of shoes can make a squeaking sound. The best measure is to remove the water and reduce the moisture inside the sole of your shoes.
After cleaning the sole, you need to sprinkle more talcum powder in the sole of the shoe. Talcum powder works very effectively. It can absorb as well as reduce moisture in the sole of the shoe. Thereby reducing friction while you move, and the squealing will stop.
For more success, you can sprinkle more powder on outside of this base and tongue. If they still don't work, take the next measure.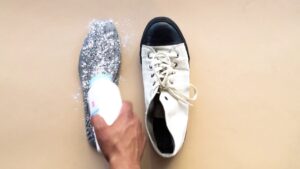 Dry The Insides Of Your Shoes
The most direct way to delete water in the soles of shoes is to dry it. You can use a variety of shoe drying methods. Some of the best drying methods you can refer to:
Let dry naturally

Put it in the clothes dryer

Use a hairdryer

Use a fan
The above measures can all help you altogether remove the water in your shoes not to squeak. However, it would help if you were prudential about the drying method.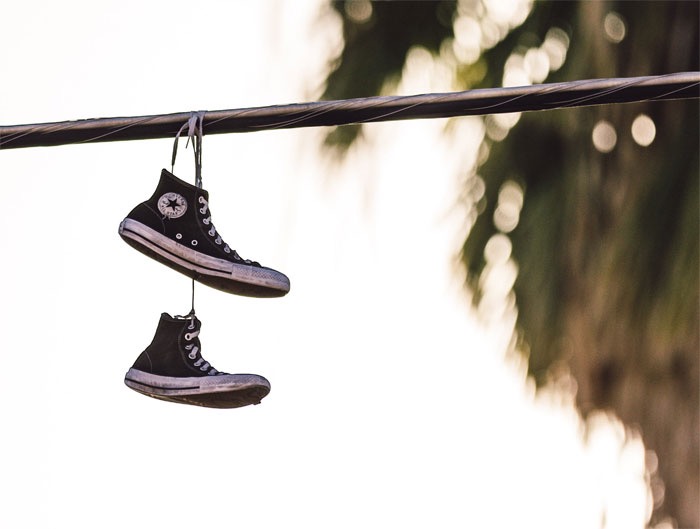 Each type of shoe will have different materials. Some materials will not be able to withstand the effects of heat. The best thing you can do is know how much heat your shoes can handle. You base that on choosing a drying method without damaging the shoes.
Polish The Leather
In addition to water, shoes that are too hard or too tight will also squeak. The best thing you should do is polish them. You can use some organic lubricant like coconut oil, lotion, or saddle soap.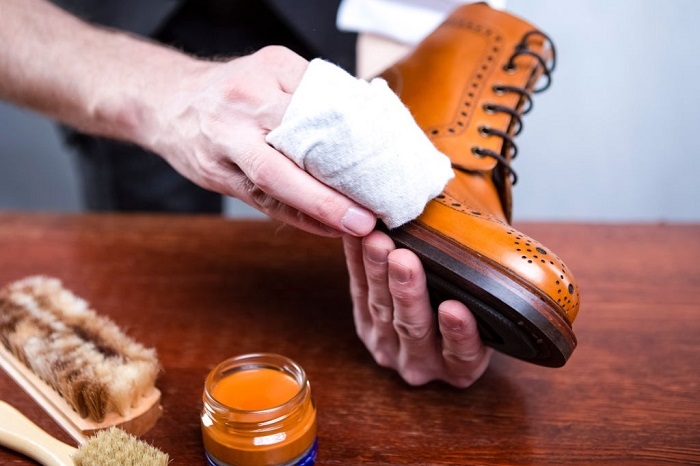 These lubricants not only help soften the shoe but also make the shoe more comfortable. Certain compounds in them can inhibit bacterial growth and reduce foot odor.
However, you should not use them too much. If you use it in moderation, you will get the best results.
Another very effective substance is WD 40. But it is only suitable for artificial skin types. It would be best if you did not use them on suede or genuine leather. Your shoes will break after a while.
Use Sandpaper
The new sole will always be more slippery than usual as you move the sole against the floor and the squeak. To prevent squeaks, you can sand the soles of your shoes.
Use sandpaper and sand the sole of the shoe, so it loses its shine. At this time, it will reduce the friction between the floor and the shoe's sole. Every time you move, it will no longer make a chirping sound.
You can also apply this method to old shoes with smooth soles.
Use A Waterproof Spray
Using a waterproof spray is the first measure to prevent water from entering this inside of your shoes. However, it is not helpful when it rains too heavily, or your shoes stay in the water for too long. But it also works.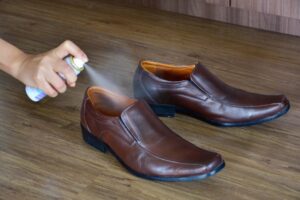 You can use a waterproof spray regularly or every time it rains. However, I still encourage you to use it regularly for shoes. Pay attention to spray on the seams or seams on the shoes.
Change The Heel/Sole
Your heel or sole is worn out and is virtually impossible to repair. You seem to have given up after all the measures. The fastest way is to replace them.
You can take your shoes to a shoe store and have them replaced. If you're a DIY, then you can also perfect it yourself.
Frequently Asked Questions
1. How do you prevent leather boots from squeaking?
To keep leather boots from squeaking, you need to make them waterproof. Prevent water from joining the inside of the shoe with a water-resistant spray. Or dry it after it hits the water.
Regular inspection, repair, and replacement of soles will also help keep leather boots from squeaking.
2. How do you prevent high heel shoes from squeaking?
The high heel shoe squeaking is mainly caused by the sharp heel hitting the floor or the slippery sole. You can fix it by gluing the sole or covering the heel of the shoe. It will reduce friction and squeaking.
3. Should you take your squeaky shoes to a store to fix them?
It would help if you took your cracked shoes to the shop for repair when you've tried home repairs to no avail.
With the information that we provide, most of them are useful. However, if you've tried everything but the shoe doesn't stop squeaking, you should take it to the store.
Conclusion
Squeaky shoes not only bring low self-esteem and discomfort to you, but it also affects the people around you. Getting rid of shoe squeaks is the best practice.
In this article, I also shared with you the most valuable tips to make shoes stop squeaking. Hopefully, the above information we share is helpful to you.